It's the Flamingo Book.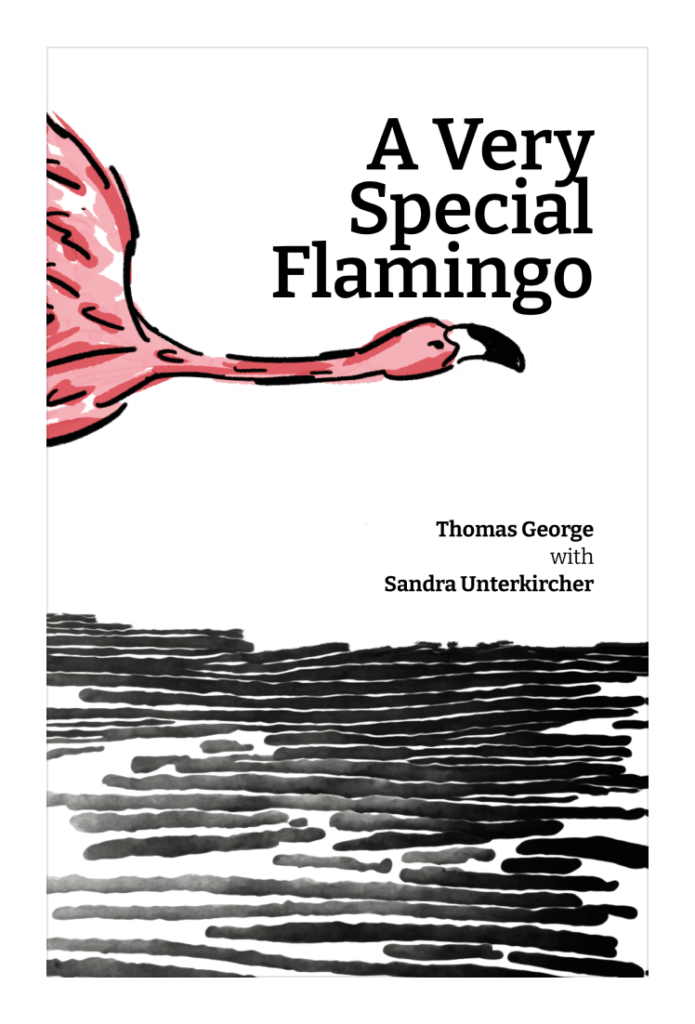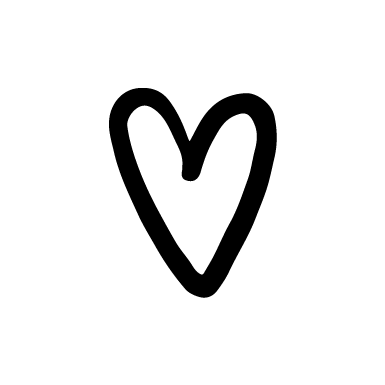 Heart-warming story
Beautiful illustrations
Incredible Quality
Everyone likes flamingos. Or at least that's what Hans-Peter, the titular hero of this wonderful new flamingo book, thinks. However, he's about to find out that life isn't always quite that simple – and that the journey to acceptance starts from within.
In A Very Special Flamingo – written by Thomas George with illustrations by Sandra Underkicher – you can follow Hans-Peter from his home on the cold river, in the grey town, on the green island… to a place he can finally call home.
Flamingo Book Reviews
Looking for the perfect flamingo book to read or read aloud? Look no further than A Very Special Flamingo. Here are just some of the rave reviews this incredible new publication has received so far.
Lovely book with beautiful illustrations!
Omer Szerer
"Hans-Peter could not understand ducks at all. He did not know why they did so little, but quacked so much."

A lovely book about pink flamingos, and being happy wherever you are.

Strongly recommended!
Great Children's Book
Giles Turner
Got the book for my kids after a friend recommended it. Really enjoyed reading it myself, and my six and eight year olds loved it.

I'd thoroughly recommend the book to any parent with children of a similar age.
Heartwarming and delightful.
A Very Special Book.
Caitlin Hughes
A heart-warming story about finding your place in the world and celebrating the things which make us special. 'A Very Special Flamingo' is the perfect bedtime story for little ones — and beautifully illustrated, too.

Children and adults alike will enjoy following Hans-Peter on his adventure through the forest, the snowy mountains and across the salty sea. Highly recommended!
Who Wrote this Flamingo Book?
Thomas George
…is an author who, like Hans-Peter the flamingo, once lived by a cold river, in a grey town, on a green island.
Similarly, he likes fish, seagulls, and looking at his reflection. However, he has no strong feelings about ducks.
Sandra Unterkircher
…is a designer who largely compensates for the author's inability to draw straight lines.
As an Austrian, she finds it difficult to conceptualise the sea at all. Despite this, she draws an excellent flamingo. However, her favorite character in the flamingo book isn't a flamingo at all… it's Doris the seagull.
Other Flamingo Books We Like
We love all kinds of flamingo books: from interesting non-fiction guides about these magnificent birds, to coloring books, to cooking books, to other fun and colorful flamingo stories just like A Very Special Flamingo.
We've made a more complete list of our favorite flamingo publications for kids (you can find that here), but here are a couple you might want to try for starters.
Be a Flamingo: & stand out from the crowd
Want to be strong, independent and utterly fabulous? Be a flamingo.
While obviously not a literal how-to on sprouting pink feathers and becoming a flamingo, this wonderful flamingo book is full of life-affirming quotes and sayings that add a splash of vibrant pink to even the greyest of days.
Flamingo Coloring Book: Adults Coloring Book
The perfect way to relieve stress and while enjoying beautiful flamingos.
Think you could make the vibrant world of flamingos even more colorful? This beautiful flamingo coloring book for adults (and older kids too) gives you the template to create the ultimate in extravagance. Just make sure you've got plenty of pink pens.
This charming picture book teaches your kids to try new foods!
It's not all shrimps, we promise. This incredible flamingo book for kids combines the love of food with the love of flamingos to add some flavor to cooking with your young ones. The best way to get around the kitchen? With your very own Foodie Flamingo!
Things You've (Probably) Always Wanted to Know About Flamingo Books
Still not sure if A Very Special Flamingo is the flamingo book you've been looking for? To help you learn more about the book and what you can do with it, we've answered some of your common questions in the next section.
What Is This Flamingo Book About?
A Very Special Flamingo is a flamingo book that's all about acceptance – both accepting yourself, and accepting the people and animals in the world around you. It is designed to teach young (and even less young) readers the value of friendship and trust – and that questioning yourself occasionally is absolutely okay.

These valuable moral lessons provide you with the perfect educational tool. A Very Special Flamingo is perfect for developing young reading skills, and it can also help with certain emotional and life skills too.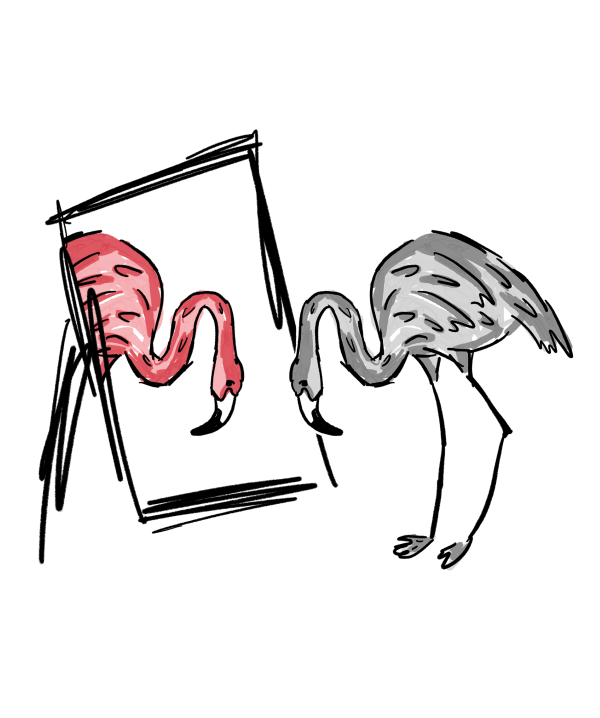 Is A Very Special Flamingo Good?
We think so… and our readers do too! With an average 5 star rating on Amazon and plenty of great reviews, we're pretty sure that everyone who has read our flamingo book so far has enjoyed it.
Think you'll be the first person not to be touched by the tale of Hans-Peter? Buy it. We dare you.
Is this Flamingo Book for Kids?
Absolutely! A Very Special Flamingo is a flamingo book that's perfect for children ages 6-10 to read and love… but there's no upper age limit. The story of Hans-Peter is universal, and appeals to your inner child, as much as it does your children.
For younger children, you could try reading this magnificent flamingo book aloud… or simply buy it for when they're older. Think you might prefer a different style of book for your kids? Check out this listing of the best-selling children's books about flamingos out there.
Can Adults also Enjoy the Flamingo Book?
Of course… and many do. A Very Special Flamingo is a flamingo book that can be enjoyed by readers of all ages. Although the story is meant primarily for children, there's no age limit to the values of acceptance, kindness and adventure.
Although at 73 pages, it probably won't take the average grown up reader very long to read this flamingo book, that doesn't stop it from being the perfect pocket-sized book to take on holiday, or to simply keep and enjoy.
Where Can I Buy the Flamingo Book?
Everywhere! The best way to get your hands on your first flamingo book is to go to the Amazon page for A Very Special Flamingo and simply buy it there.
If you're interested in buying lots of flamingo books (because you own a bookstore, book club, school or just because you really, really like it), send us a message on our contact page for a special bulk discount. We're more than happy to provide you with as many copies of A Very Special Flamingo as you can carry.
What Other Flamingo Books Are There?
There are endless books about flamingos on the (virtual) shelves of Amazon, as well as other bookstores online and on Main Street. With so many to choose from, we've made a list of the best flamingo books for kids: perfect as gifts for the young flamingo lovers in your life, or as a new idea for your next bedtime story.
Although a flamingo book is the perfect birthday or Christmas present, you might also enjoy some other flamingo gifts. Our curated selection of the top finds on Amazon can help guide you away from the fluff… and toward the feathers!